Basic Classroom Instructor – 23 – 11 – 20
November 20

-

December 15
Register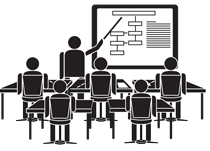 "Excellent teaching method and approach"; "Very creative and useful to us for the art of teaching"; "Very organized, interaction between students and teachers; was very beneficial and it helped to raise my personal standard": some student comments!
Course Description
This twenty-day course will provide Driving Instructors with the opportunity to explore classroom-specific instructional techniques and to develop their lesson-planning, presentation and communication skills.  The major area of concentration in this course is the knowledge, method and practice of teaching the MTO Approved Beginner Driver Education 30 hour classroom course.
Topics to be covered include:
Lesson planning
Instructional methods for the classroom
Use of visual aid equipment
Administration of a driver education learning program, including schedules, instruction content, students and materials
Communication skills
Instructional skills
Practice teaching skill and information units
Setting student learning objectives
Measuring student learning
Learning Outcomes
Upon successful completion, graduates will demonstrate an acceptable skill, performance and knowledge level in all of the key course components.
Process
Classroom formal & informal instruction, workshops & practical exercises with home preparation each evening.
Resources
Supplied:
Bring your own (current version);
Driver's Handbook
Highway Traffic Act
Evaluation
Full attendance, classroom performance, assignments and lesson planning, presentations and tests, overall participation.
Certification
Certification of Completion.
Prerequisites
Valid Driving Instructor License.
Duration: Twenty (20) days; (15 days in-class at OSL and 5 days as home study)