ProActive (defensive) Driving Workshop – 21 – 12 – 18
Register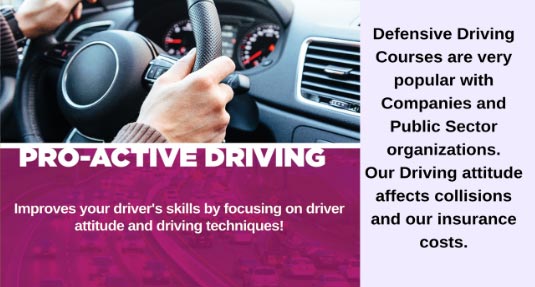 Other Course Dates
Course Description
ProActive (defensive) Driving Workshop with an optional In-Vehicle Evaluation.
This in-class 'defensive driving' course is based on the role of driver attitude in determining and affecting driving behavior. The focus of this course is to allow the participants to discover their driving attitude and the effect it has on the way they handle themselves while driving, thereby, allowing them to make the necessary positive changes to their driving habits.
Who Should Attend
Any licensed driver interested in improving their driving performance. Candidates who have been recommended by the Ontario courts, their lawyer or their paralegal.
Format / Options – Register for ONE only
Option 1:

$195+HST  – ProActive (defensive) Driving Workshop, classroom only.
Interactive classroom with formal and informal instruction, discussion and work-groups.
This one (1) day course runs from 9:00 am to 3:15 pm (10 min break in morning & in afternoon; 30 min lunch break).
(Course starts promptly at 9 am. Arrive 15 mins early to sign-in).
Option 2:

$305+HST – ProActive (defensive) Driving Workshop PLUS In-Vehicle Evaluation.
Includes everything in Option 1 plus the 30 minute In-Vehicle Evaluation.
In-Vehicle Evaluation are conducted on Saturday after the workshop (somewhere between 3:15 to 5:15). However, due to high volumes and limited resources some students may have to return on the Sunday afternoon (between 3:15 and 5:15) or at a mutually agreed time and place during the following week.
IMPORTANT NOTE FOR In-Vehicle Evaluations (IVE):
In-Vehicle Evaluations are conducted in a vehicle provided by the student, i.e. your own, family or rented vehicle.
Student must have a current, valid driver's license and be 'fit-to-drive'. A pre-Trip circle check will be conducted.
Vehicle MUST be roadworthy (working lights, no cracked windshield) and have current insurance and MTO registration sticker.
Dash Cams are not permitted during examination
For insurance purposes, only the examiner and the candidate are allowed in the vehicle during the road test.
Please have your license ready for the examiner at the start of the road test.
Certification
Ontario Safety League – Pro Active Driving Workshop laminated wallet card (includes: name, workshop name, certificate number and date of completion).
Cancellation and "no-show" policy
Students must show up on-time for the in-class and the in-vehicle elements of the course, 100% attendance is mandatory. Failure to do so or lateness will exclude the student from the class or in-vehicle session.
A fee of $80+HST will be required before the student can be re-booked for the next course or another in-vehicle session. Failure to show up the second time will result in student being cancelled off our register.
The full price will be charged for any future dates.
Learning Outcomes
Upon successful completion, graduates will be able to:
Understand how your attitude affects your driving;
Identify and evaluate your current driving patterns and where needed, learn ways to change them;
Understand Provincial traffic laws, by-laws and local traffic issues and problems;
Understand the magnitude of traffic collision problems;
Understand the concept of the preventability of a crash and defensive driving techniques;
Understand the role alcohol and drugs play in traffic collisions;
Understand the risks involved by distracted or irresponsible driver behavior;
Understand the importance of the proper use of seat-belts and child restraints;
Understand the effects of driving when drowsy;
Understand the personal liability and professional risks associated with driving.
Additional Information on ProActive Driving:
DEFENSIVE / PROACTIVE DRIVING
(with thanks to Canada Safety Council)
Definition: Defensive Driving is controlling a vehicle so as to prevent/avoid collisions despite the (unsafe) actions of others and the surrounding (adverse) conditions.
Principles of the defensive/proactive attitude:
KNOWLEDGE: of traffic laws and safe & responsible practices
ALERTNESS: in attending to the constantly changing traffic conditions
FORESIGHT: in anticipating and predicting unsafe actions of other drivers
JUDGMENT: in making decisions of least risk
SKILL: in adjusting to changing conditions of the total traffic scene
A PREVENTABLE collision is one in which a driver failed to do everything reasonable and possible to prevent it. Did the driver make an error in any of the above elements of proactive driving.
Standard Collision Prevention Formula
Recognize the Hazard …..
6 positions of a collision
6 conditions of driving
collision traps
Know the Defense …..
space management
visual search pattern
evasive manoeuvres
Act in Time …..
speed control
space cushion "escape route"
decisive action
Driver Fitness
For these considerations to work all the time, the driver must be "fit" for the driving task.
mentally alert
visually attentive
emotionally in control
socially co-operative
legally responsible
The Ontario Safety League now offers PRIVATE and VIRTUAL corporate workshops: This course can be customized and offered to companies at locations for their employees only. Please contact our office to discuss options and a quotation.